Điều kiện tiên quyết
Before installing TSplus Remote Work, check the following prerequisites.
yêu cầu phần cứng
The connection Broker can be installed on any Windows system, server, or workstation.
Windows Vista SP2
Windows 7 SP1
Windows 8 / 8.1
Windows 10 Pro
Windows 11 Pro
Windows Server 2008 SP2 / SBE SP2 hoặc 2008 R2 SP1
Windows Server 2012/2012 R2
Windows Server 2016
Windows Server 2019
Windows Server 2022
Network Parameters
The TSplus Remote Work Server must have a fixed IP address. If you do not have such fix address, you can use a dynamic DNS service such as DynDNS.org or NO-IP.org.
Thông tin thêm về điều kiện tiên quyết »
Cài đặt
Tải xuống phần mềm and simply run the TSplus Remote Work Setup program on the Windows system you decided to use as the Connection Broker.

For the purpose of your trial, simply accept all default settings:
Tick "Use custom proxy settings".
Tick "Use the built-in HTTP web server".
When the installation is finished, reboot the system and start the admin tool by clicking on the desktop icon.
Cấu hình
Add workstations
To add workstations, all you need to know is the Windows logon and the LAN IP address of each of them. Simply click on "Managed Workstations" to start adding them and enter the correct settings, notably the fixed IP address and a user-friendly name.

When you have created your workstations (up to 5 with your trial license), start assigning them to users.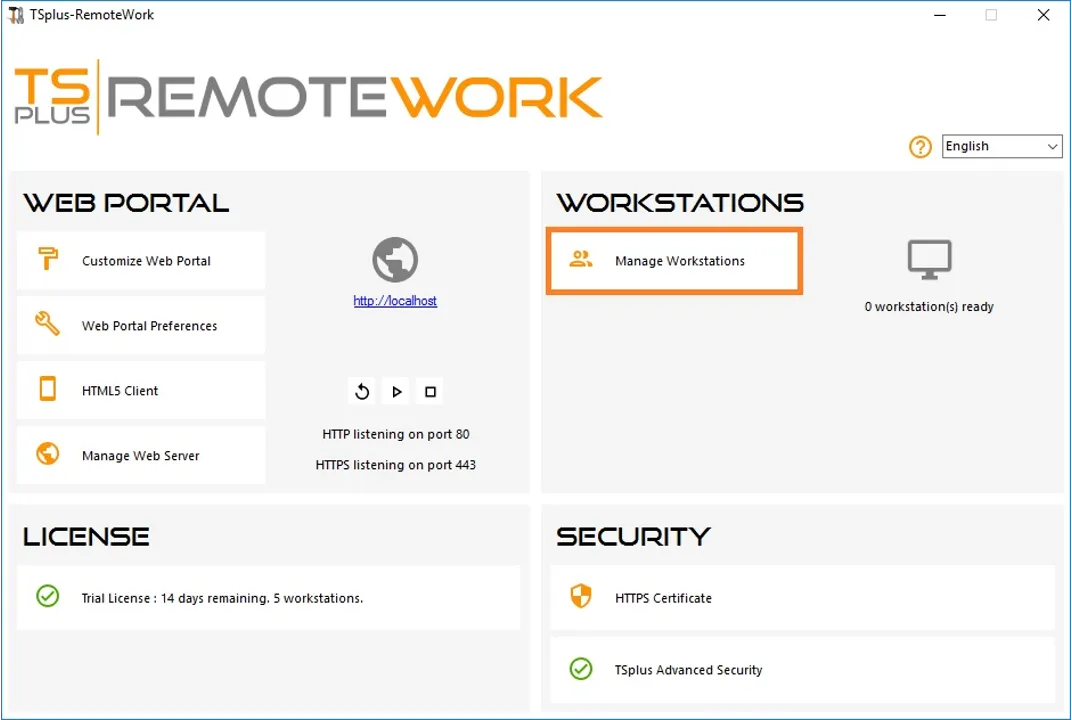 Assign PCs to users
Simply click on the workstation to which you want to assign a user, then click "add" users. Select the Windows login for each user (for example, their first name) or use your Active Directory, if you have one.

Finally, ask your colleagues to download and run the client setup program on their workstations. The download link is going to be http://192.168.1.120/download where 192.168.1.120 is the IP address of your TSplus Remote Work Connection Broker.

That's it! Your colleagues can start working remotely.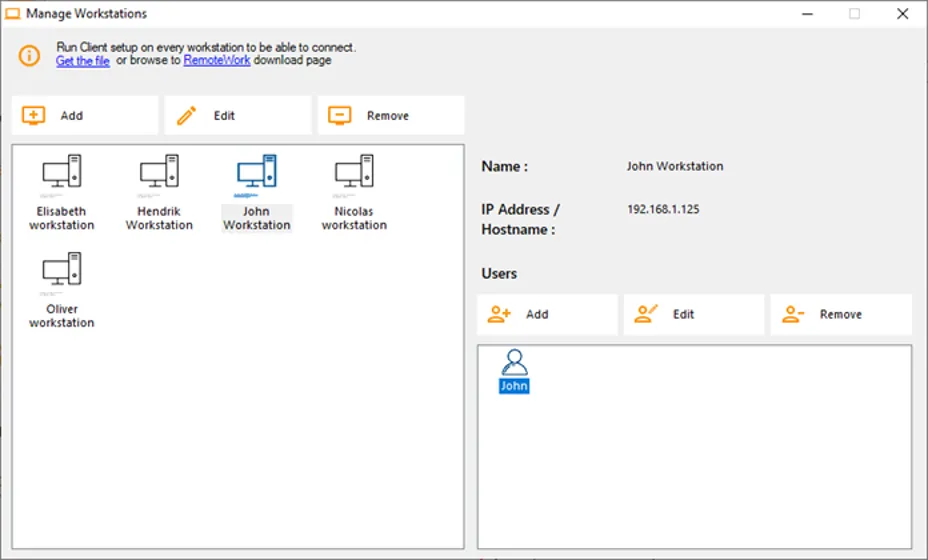 More details on assigning users »
Ví dụ: chạy lệnh trên để vô hiệu hóa giấy phép trên cài đặt cung cấp khóa cấp phép của bạn.
Đi xa hơn
You have now configured your TSplus Remote Work environment, which you can start testing with your 15-day/5-workstation trial.

This trial should allow you to confirm that TSplus Remote Work is the right solution for you.

Để đi xa hơn và khám phá các tính năng nâng cao và tùy chỉnh cài đặt của bạn, vui lòng truy cập hướng dẫn sử dụng đầy đủ.
‍
‍Truy cập hướng dẫn sử dụng đầy đủ »
Có yêu cầu cụ thể?
Thoải mái để liên hệ chúng tôi, chúng tôi sẽ sẵn lòng trả lời câu hỏi của bạn và hướng dẫn bạn.