Prerequisites
Before installing TSplus Advanced Security, verify the following prerequisites.
Operating System Requirements on the Client
Windows 7 SP1
Windows 8.1
Windows 10
Windows Server 2008 R2 SP1
Windows Server 2012 / 2012 R2
Windows Server 2016
Windows Server 2019
Windows Server 2022
.NET Framework 4.5.3 or higher
More info about prerequisites »
Installation
Download the TSplus Advanced Security 15-day trial and simply run Setup-TSplus-Security.exe as an administrator on the Windows machine you've chosen to protect.

When the installation is finished, click on the desktop icon to open the admin console: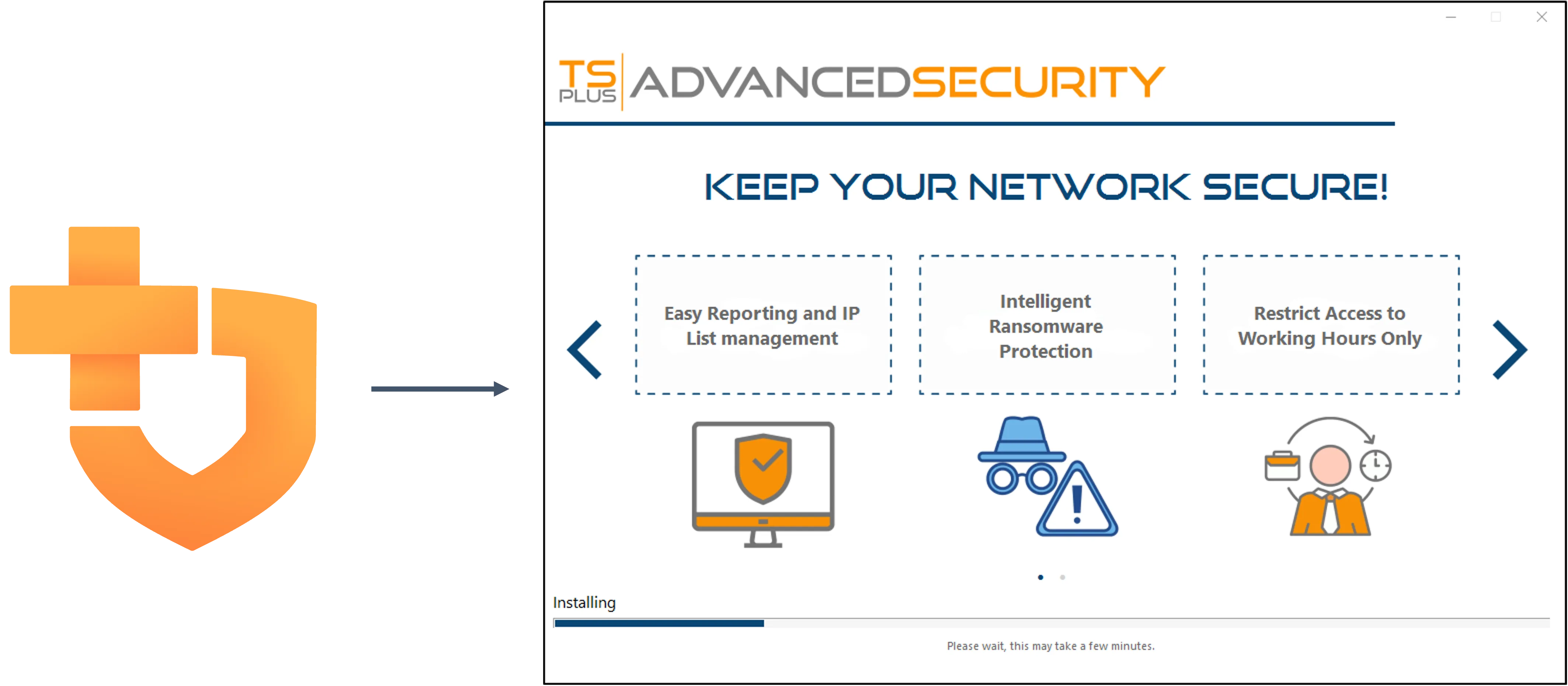 Configuration
Configure basic features
After launching TSplus Advanced Security, easily configure the main security features using the lite mode on the top right corner.
Activate Ransomware Protection in one click to start the learning period.
Confirm that Bruteforce Defender is indeed activated.
Add your whitelisted countries in Homeland Access Protection.
You are all set with basic features!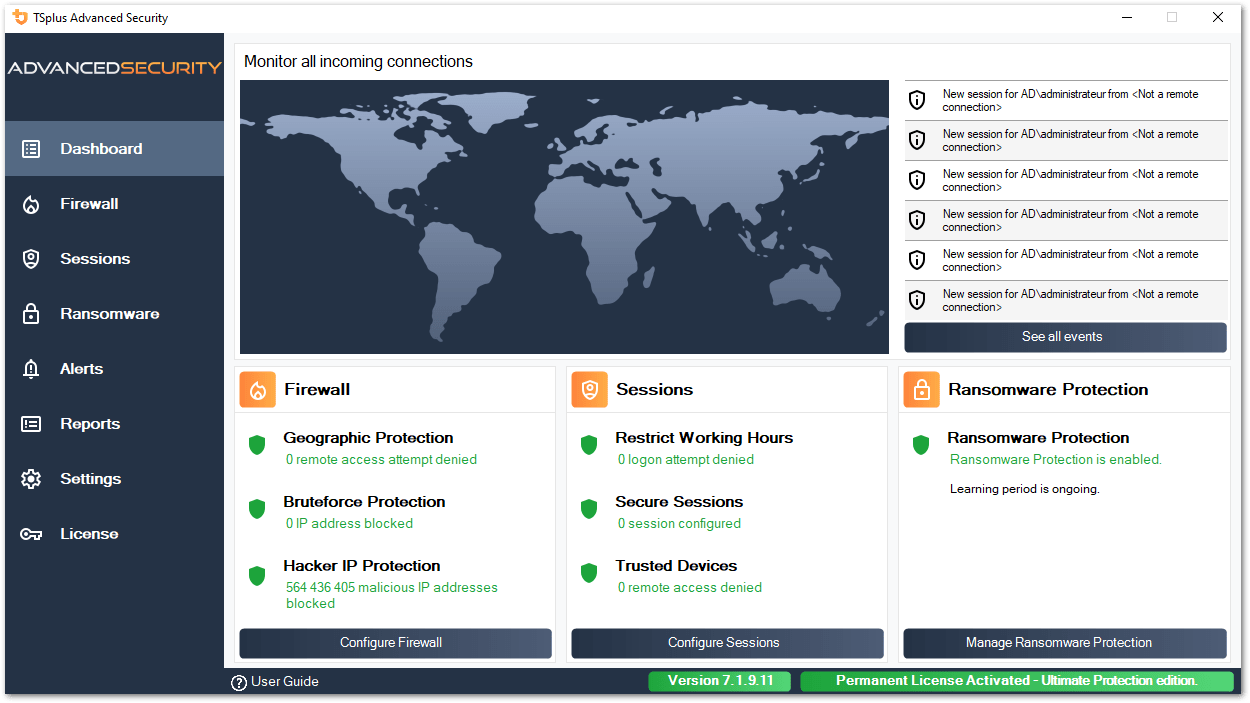 Leverage user/group-based security features
Now that your basic features are activated, customize the following security measures for customization at the user or group levels.
Add users and groups
Click on one of the Secure Desktop, Permission or Working Hours features, to easily add users and groups using your Windows Active Directory, Azure, AWS or local accounts.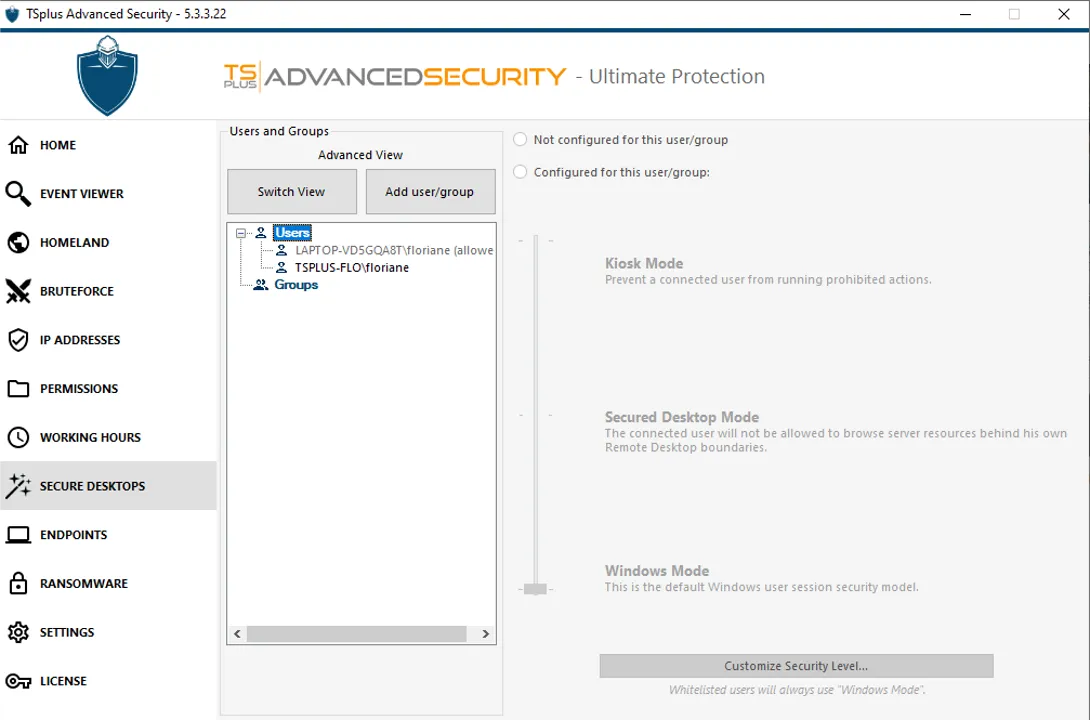 Configure additional features
Define access privileges to local filesystems, printers and registry keys for each user/group with Permissions.
Define when users are authorized to login with Working Hours.
Customize the security level for users/groups with Secure Desktop.
Validate users' devices that can connect remotely with Endpoint Protection.
To access more capabilities, please use the expert mode and consult our guide.
To whitelist users, groups or programs, click on the settings tab.
Follow the getting started guide to know more »
Access advanced settings
In the expert mode, experienced network admins can access advanced settings in Settings / Advanced.

Backup/Restore data and settings in a secure and private database, deactivate the Windows firewall to use the TSplus Advanced Security built-in firewall, enable/disable service and functionalities logs, and more!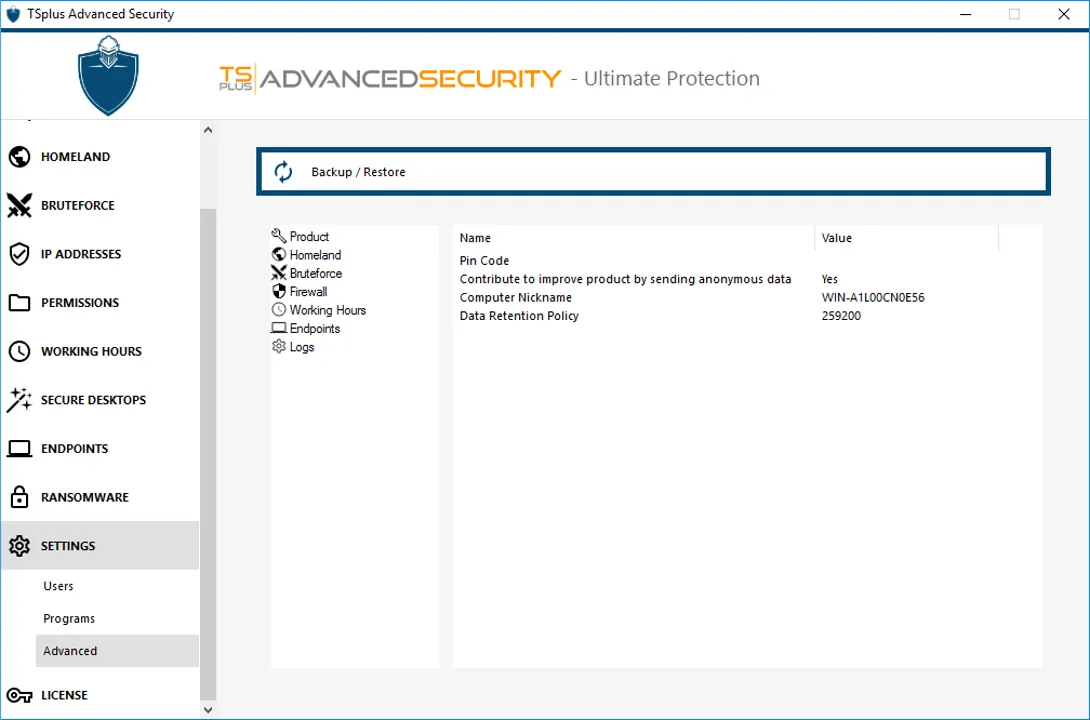 For example, run the above command to disable the license on your installation providing your license key.
Go further
You have now configured TSplus Advanced Security. You can start reviewing prevented threats as they occur, act accordingly and go deeper into our user guide to fully understand each feature.

Your trial is fully featured (Ultimate Protection edition) and available for 15 days.
‍Visit the full user guide »
Have specific requirements?
Feel free to contact us, we will be happy to answer your questions and guide you.